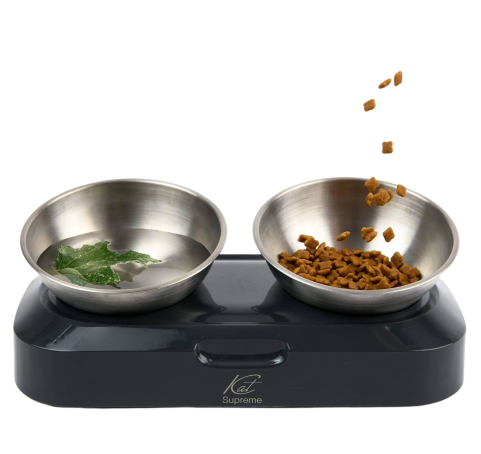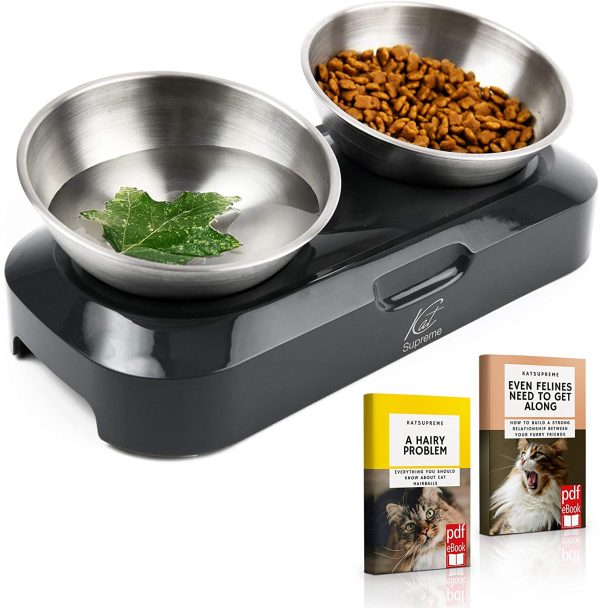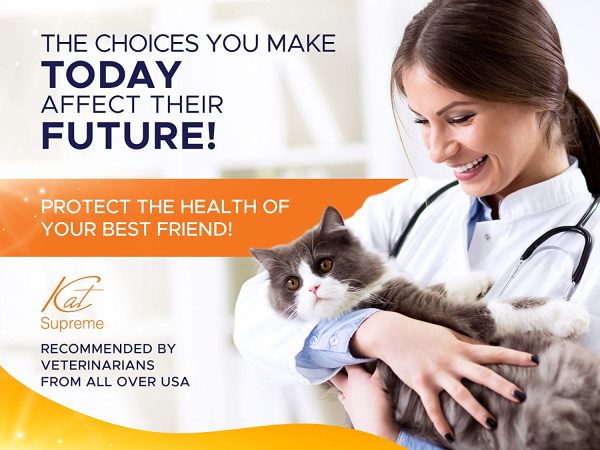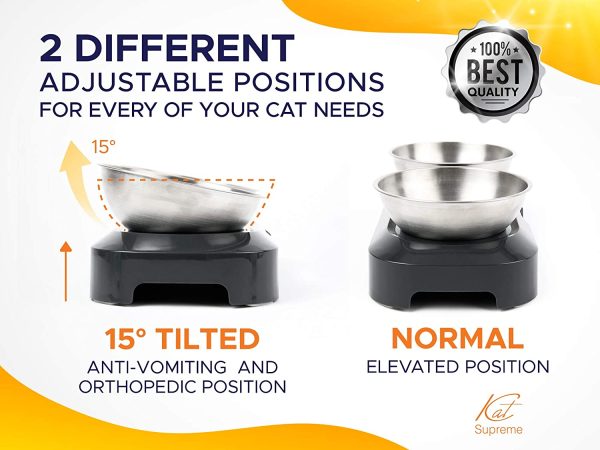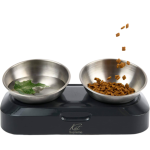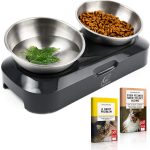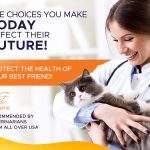 Tilted Cat Food Bowls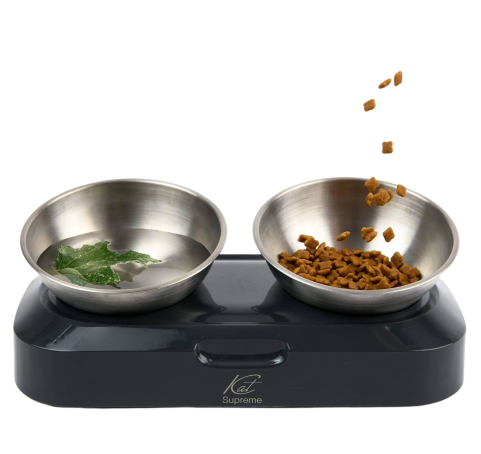 Tilted Cat Food Bowls
$23.39
$23.39
Does your cat throw up after meals? KatSupreme's elevated multi-angle tilted bowl set can help. With a raised base and adjustable bowl angle, this two-bowl feeder promotes healthy spinal alignment and helps prevent painful post-meal vomiting.
---
100% Money-Back Guarantee- No-Hassle Returns
12 Month Warranty
24/7 Customer Service
Quick Order Processing and Tracking
Secured Transactions
Each order comes with two guides for a happier, healthier life with your cat!
These orthopedic bowls are PERFECT!!!! 👌👌
First of all, I didn't know that cat feeding products could affect the health of a cat. As soon as I saw this product and its description, I decided to buy immediately new bowls for my cat.

It's been a few days since I use the KatSupreme raised cat food bowl set and IT ALREADY MADE THE DIFFERENCE! Because the bowls are raised on a stand and inclined, my cat has a totally different position when she eats or drinks water! It seems that she enjoys eating from her new bowls! I am really happy that from now on I can avoid future health problems for my cat with thise good looking product.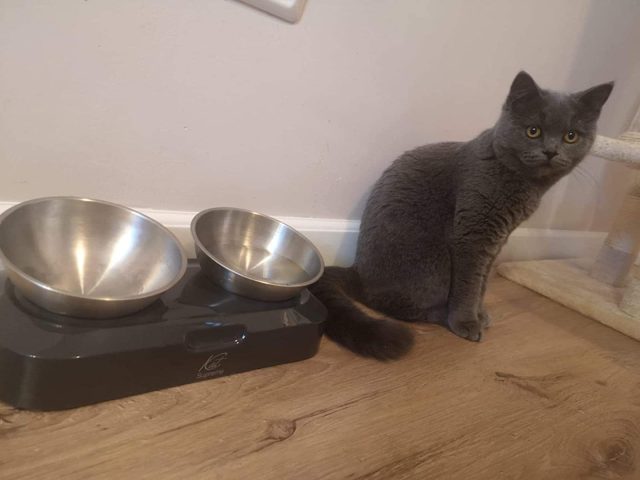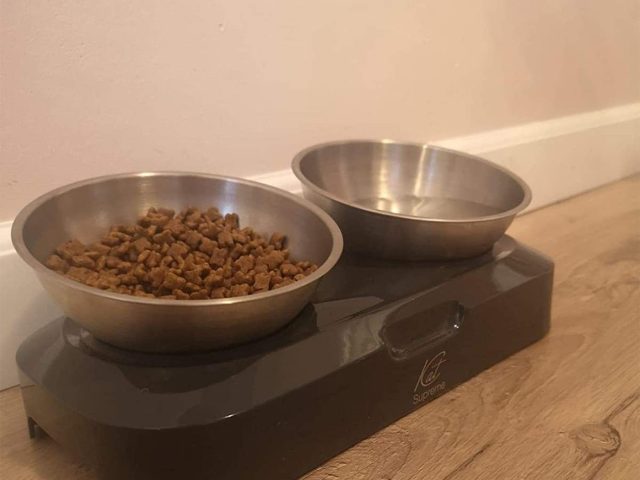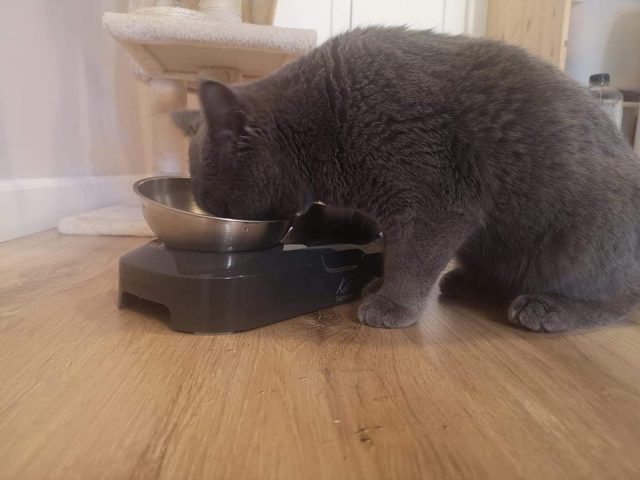 KatSupreme's orthopedic tilted cat food bowls are made for your cat's health.
Regular cat bowls are great, but they come with some problems. Ordinary bowls sit flat on the ground, forcing your cat to crouch for every meal. This hunched position puts pressure on sensitive areas like the hips, shoulders, and neck. All of that pressure can be painful, especially if your cat is a senior or has arthritis.
Some cats who eat from regular bowls eat too quickly or have trouble keeping their food down. Whether your cat throws up after meals or suffers from achy joints, they deserve a bowl that makes them feel better, not worse.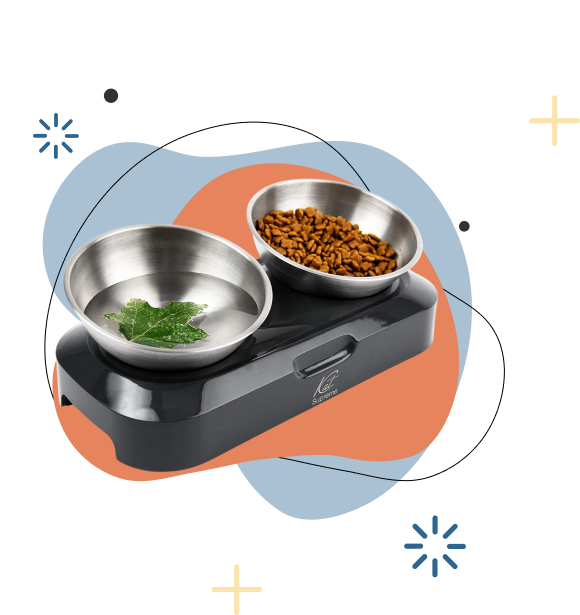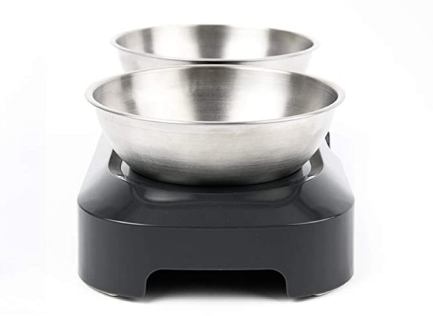 The bowl's base doesn't just keep your cat's food and water dishes in the same place. It's made for your cat's comfort. By lifting the bowls a couple of inches off the ground, the 2" base helps to relieve achy joints and promote healthy digestion.
To take even more strain off of your cat's joints, both of the two bowls are adjustable. With a turn of the wrist, you can make your cat's bowl sit flat in the base (ideal for water) or raise the back by 15 degrees. If your cat tends to vomit after meals, we recommend the tilted position.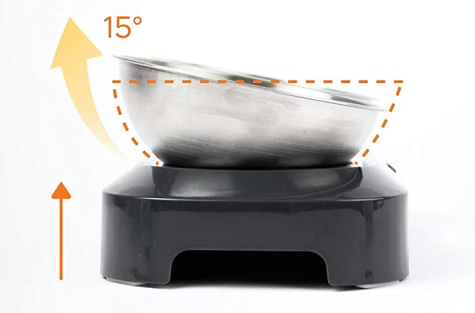 Both of the bowls are made from hygienic stainless steel, which veterinarians recommend to reduce bacterial accumulation and prevent feline acne. This food-grade stainless steel material makes the bowls hygienic, long-lasting, and easy to clean.
Whether your cat is a kitten, senior citizen, or somewhere in between, the KatSupreme food and water bowl set can help to prevent digestive issues, support healthy spinal alignment, and perhaps even keep your cat out of the vet's office.
With hygienic, easy-to-clean materials, a convenient two-bowl design, non-slip rubber feet, and effortless assembly, this orthopedic bowl set is made for your cat's comfort and your convenience.
** We're so confident that you'll love this bowl set that we're offering you a 100% money-back guarantee and a 12-month warranty. **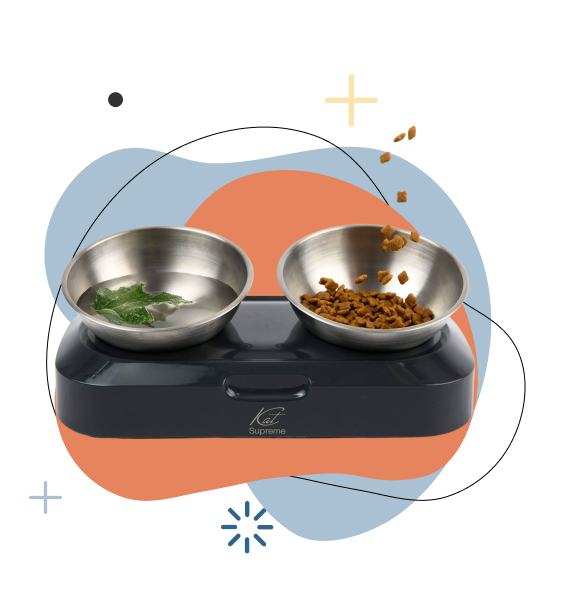 Caring for the set is a cinch.
It's easy to keep the raised cat feeder bowl clean, fresh, and ready for mealtime.

Simply turn the bowls counterclockwise and lift them out of the base, then pop them into the dishwasher or wash them by hand. We don't recommend placing the base in the dishwasher, but any messes are easy to rinse or scrub in the sink.
Easy to Clean
No more plastic bowls that can't handle the dishwasher! The stainless steel bowls are easy to clean with a twist, a tug, and a little time in the dishwasher.
Made From Hygienic Materials

Most veterinarians recommend stainless steel food and water bowls. The bowl is made from food-grade stainless steel, so you'll see less bacterial buildup, no more water bowl slime, and less chin acne.
Non-Slip for Less Mess

Have a messy eater? We have good news for you. The feeder base features rubber non-stick grips that prevent it from skidding or toppling as your cat eats. Less mess, less waste.
Frequently Asked Questions